My thoughts are turning to how to improve the interface for BufCompose in Max, and I want to get thoughts on a suggestion.
Buf... Objects in General
All Buf... objects' input and output buffer arguments are exposed attributes (I guess this is true in the version people have) but attributes are no longer also useable as message arguments in process, because it's confusing.
Ergo, the message to these objects now has no arguments, and can become bang, which affords setting up cascades of processes more simply.
BufCompose
Instead of always dealing with two sources, it deals with one at a time, so its behaviour can be summarised as:
mixing a section of some source buffer into a destination bufffer (at some offsets), with an optional gain applied; it will always resize the destination buffer where needed.
This gives possible attributes (ignore the detail of the names, it's the functionality I'm bothered about here)
@source buffer name [start] [len] [start chan] [n chans]
@gain gain factor (default 1.0)
@dst buffer name
@dstoffset [start frame] [start chan]
I appreciate that it's a bit inconsistent having the offsets for src as part of the attribute, but not for dst. It's exactly the sort of thing that makes sense from inside the code, but probably less from outside. What would people prefer to see here?
What I'm digging about this general approach is that it should support different coding styles. If long message boxes are your thing, then you can chain stuff with commas; equally, if boxes are your thing, you can make instances with labelled attributes to communicate what's going on.
E.g., for an in-place MS encode, with boxes: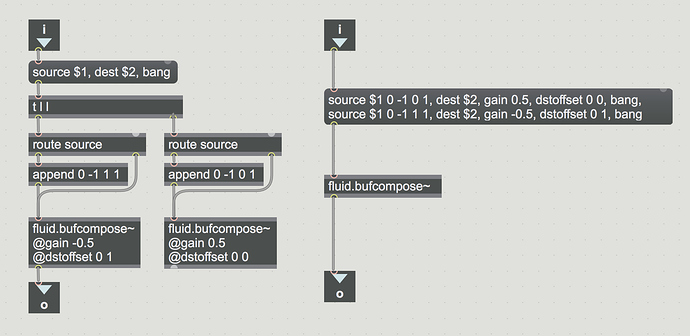 Thoughts?