Hi folks.
I'm finally getting around to playing with flucoma after watching from the sidelines since the early days. However I'm falling at the first hurdle!
I've got a new university-issued laptop, an M1 MacBook Pro, and I can't get any of the flucoma patches to open in Pure Data 0.51-4 or 0.51-3. I've tried with the downloadable binaries, but every time I open a help file (or try to create an object) Pd will crash. I can't get any crash logs or messages from anywhere to give me any clues, it just silently crashes, or sometimes silently hangs until I try to do something else with Pd, when it then crashes.
So I tried to be proactive and compile everything from source (setting the architecture flag as detailed here), and it gets 38% of the way through before printing a bunch of errors and failing. I'll post some screenshots of the errors, if that's helpful.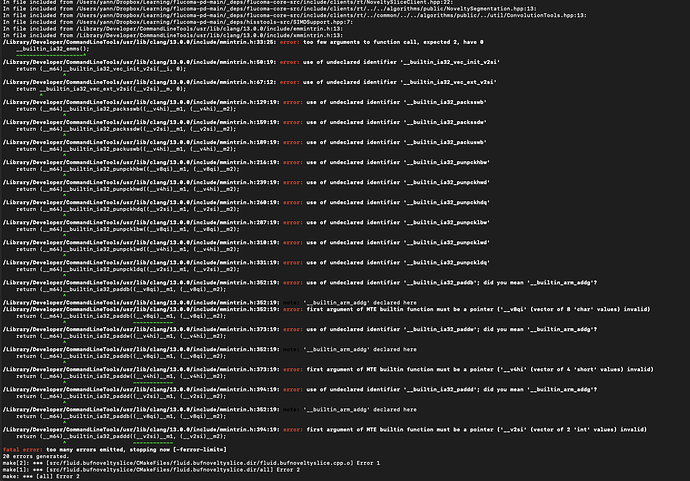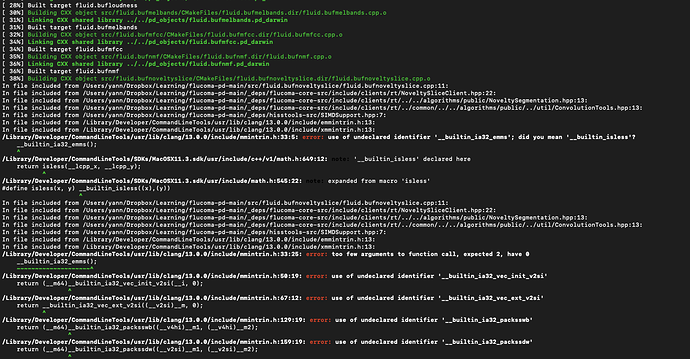 One other odd thing that's been happening - I've had a very similar issue with a totally different set of objects, the DeepLearningWithAudio library. The behaviour is almost identical in terms of crashing, and I'm wondering if the problem is the same…I've detailed that issue on their GitHub and haven't figured it out yet.
The final thing to say is that as a university issued laptop I believe I do not have complete control over it…I have admin privileges but I think there is a super-user level that I don't have access to, so there's possibly a chance that something is getting blocked from running? I would be surprised, especially considering the number of academics using this software, but I thought I should mention it.