Since I'm working on some fluid.nmffilter~ stuff, I figured I'd share a little test patch of bits. Also turns out I tried doing a "filter" thing with NMF like 5 years ago too!
What this does is first it sorts the bases by centroid (very useful… so it's not random all the time) and then "transposes" the bases by shifting everything over and zero-padding the bottom.
This does nothing if you have all components enabled, but if you have only a few, you get a shifting filter sound.
On the original sound it's a bit useful, but you just end up pushing the sound into the territory of other bases. It sounds cooler if you send different audio through it.
The 2 voice synth sounds particularly cool, but try out diff bits of audio.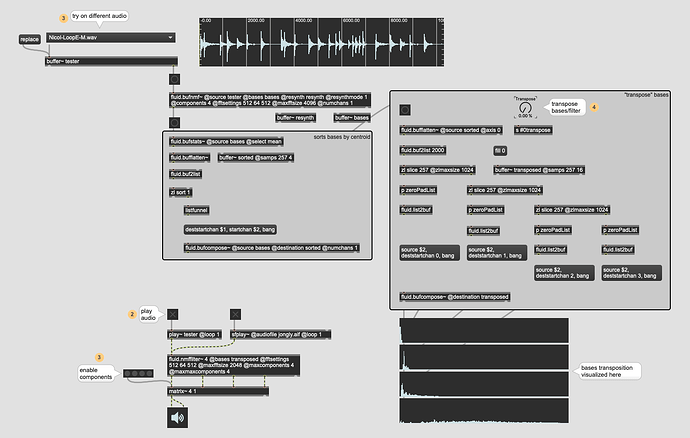 ----------begin_max5_patcher----------
4672.3oc6cszjihjj9bV+JvzzGlGYqMdSvdJ2cs81LqMGlaS2VZHIjR5AAx.
TVYViM0u8Md.HPBHCPfRUiEUZc9H.QD9W3tGtGwmS+O+xCKVk7VP1Bm+Sm+t
yCO7O+xCOnZR1vCE+8CK16+15H+L0ssHO3s7UGyyShW7n9xuDFmqtTYCQA67
W+t7FWmDkjJuFr3RoIGi2DrQ1DCrDTzZxw7nf772ODnGIhmj9+TO4es3tVsq
5w82cfhOrCXoKmivT4uQbATN+Q4Ep9DxgfZjgWTqkZOEvRLwCfdrkeo9yITM
fWjr529YDs7QcvO0eePdP5yAw9qhTC8RAJ939vXgHkUW12lDmGK9Hpm0+UZn
ejy+cRzlSOu70Bnb2yoAqyKDRFZoP3vfkHjKxk6J+Nxi8nCRBdpuWMHE8oFG
UcJtbnuKNQ7.iBW+OTiEYq+qu7E42dzvY70I62GHlHNGTySe2II1YS31sAoh
avw+3lvjxaa0wUEfBrETzcQMPIK7a5aDurW.T+HyB2ntaTmvZeHJmIQTD5BD
Eh7jPJoaHELgX2J+rfLm7T+3rCIYg4gBf70vri9QBrXiyKB.sxZJLNXsvrIu
tP2O5RFC5NLbDwkONGWOgkGmyvtPHlgYHtq.JonY.J+gzwCY5b7ftkNdvHkb
hPjFSuXB4dw2i1xIvQYI8erMLR.HWgIC9FXx.4JfC1Bl5wrVLS9R0fanEChn
DSWlmPPAPOLBybgDOD59vfQK3NhKeHIVbCYWgsB75W7FOFKHDnXMGhbMbqIS
4bKZxLYHvanICVox3vbopPxtCLRND4+dynXGt0Aj+IYcfwtJ3jofSJ+FFM6u
bZ83eYgdE4EsfLUA82JDzZXHdJUDnvV28730AzOPgYJkvrjz7Lsj4r5cm0h6
IMIbSKRo2PERWnVP37kbBf554BAPBwkIERLZFDxUpQwovkdML3qhjOBWEFEl
+d8gax1sYA4kdST9jNMPhRV+OB1rI0eW15zjnn5tHTlm4uHbHt6k5sqcl7xk
e.8Ed8xKn6kR6HPk2x8IaZ1RR5lfz5sboe2SXXoQ01nigaVt531nDewGeo.m
DfSaJuks4mtqX+RV7jHpy.oi7+uPgW2e9Omjb3+8m+KK+p+qKpOacRK.zaD2
JqWcHhbUtn3tm1GiWu8AYY96BZQ29X55.meRrrvlfr7rb+TwvyOV3FRnwGuq
Weg8.xMBY.zpYApO.gn7mQccW5ADewTeG3R7prKvzOW.BMc.Dvav.DB.t2AH
3DBP7ACP.pZ0CJVjvEBPndtdTBkPXn6F.BLg.j6PAHO.6NAeDNRibpbQXp.i
FrFg3eJoRjINgQ8DIfST1LXn1aqZmAmRANN3qhw5ka+2Q4dl98pM.LXiySY9
6Oj4fntNPVmHgbcpb4RNJsl1gE7fCypDVDIsz.VjYbT3koGbAMc3R0xwp7Ty
B9tySR6kvXe0NjdBtVzatUsiKfghKE1GLL6RGrHB5VCKQgY4HA1zorq0pZU5
gddCO36hEfay8fK51YrLEROevRe4pq+6fzO7DuJV5jny+5GM4kMRKcQVWKID
wpCTJiC4PFCNSB+9iQ4gYQgaNkE1G3JqLCHwBDsIxDS13FQtbY4u2bqKDsIv
HwfqVVdvlx5PfPNqkzXwLU9LT5svY4AmuEjl7W827mE5PCKjBnGcrdIIdfkd
BMGDRo4vAR+D7OT0o9CVm85CUR6CxvhBdMHMSr1Ws6VjC5gC0Z9gZeDID8a5
8+i+XUSgw5lnUMkFHS3W+4O0pepP7xEx1wTc5wuwJ0qjOFQF2owGCqz4USVE
CI0zhLs5rC9q0eX4rW4kqsMUbUJtPtF1z+vEQNgQxr60Y8WS2ULEdHHNL9PZ
PVPbtJdfFWdSvVegQ0yM10MzxVu91hgXqWr0Mb6gE6RC2jDKGDMlJjMW1cBs
A0V4.o0EF0cD6enkOrPmSfKcbQQRB4GyV4mp1Zln5m4sPaOIIp4kp9bQAayK
t7gv33yPw7jCcewzvcuzymcUh3h666YqtR1yGi0W8YgRQ9yY9u1Dsy8ihJLd
a93eyONbuedPdndJPrFb4EuXiifMuxqsbkMBk70AeMbStdOnpqLHt8vCkJQK
plk2DtSDuYy1x8063yoVpbhVqoik6p1y4A6ODIjhl2fv7P3OJ6kjulUbikJZ
0AfSbwotQccOgMZuOOhmcfoNqb1V+JWthpJOzxTLpzeOOL55Oi1bR145CZ5U
n2YKjWAKL.M5mVVS3gx0EJb2LRjo4951DZ9eRCDyVN9NxfNb95Kgqew4E+LG
BPsRRlivcaf7bcbDdGRbByWV+wzVJ6mCZ7wBZH0wH4nyEGR0+AtWTCbiPMIz
3bveiDWhNsR64hNarhtKcIRniHRGcIwkxYdbQL3ddXhHjLcTo02U7OQfnzWR
RZlSXbGv.9JgA4Y6H+WIJvEQUwA2XTnG2KeKxQDM65.09W7z2hDeN4phhDIP
jd85zHH2KhGqaXC0OrgUAYv.ZkGHgwHhnxfRpVHhp+7nxlYmO8fa+VRSUlti
SsSRdMRrAKhWmgq8ERcdS3ktermY3sAbxq1Rv1wl5me9kgxOVKNI60TX.jsD
xO8ERw8IjA5NvalM2tzjiGlP6M9X0op.Mg6Z8tjo+h6JIs.w69wh632BMJLn
xe1qRl6nwKnmBuftnkDZsujGsM0DkL7MSIKJHdBUwPWMjggZx.T9EQphgo2O
pX4NBP6JfH3XccI7rKCVnHCa.3FGj8MTMhNVsHjHfJHn1+PXwZgdjkf5ts.e
JpT8Ek4wr.Qzk4NhDPRSxkYW1gxCXz4Z.TGBDk41v7hhjAbCueB0TxTC44H9
AAGzs40nstPtRCJhHV7ZgE.coBW1tf6m3BRc9cfpSJajXDn6vm.efaZWrplU
ZyjheGE8zezArDQ6Ed5emP3fI0GTqpUj6H0pqbUMWuqXUMESD.KqmtB1UFNN
kcIRderhW1Z+n.gNlZcX0OWNNaQ2tCJmYjoHgCWVODSJPlELgcWkIiXQsoK5
.B35xMlxXWtFHjRtehmJ3sCoN+dEey+8+zVnyeRngQ+C+Ame1ANxsSvcz4Kq
0xnH5RTSP6yPKSMrGIDPG6ZdEwcK2l1y2jNMqhv8G4TcDtLHvOXqEi2D71Ti
c5QTGAVhXWm+alv74hMx0HzAzA5z6NP2G9b5r4jadeGm3hRPjWucfSynuBUp
xvAbZJF0ntTsaT5O2g37qFMwMzQgbUVGnAiBpdzNeCBSfBBXNGEbCGERWey1
nfZ3ffOmPAwTcS4FtOaihRb1L0B3bMJLcFQtMLyGVPL0ag2bNJLzYQoozrMH
9zcV.M0kEbNgBnwtrHynEBzT6zV.s8gaNjDFmmUxhROUjQH.oQxsp2R.LTGW
aNkK3.li6QtHT8wcP3KYmeFQUB1kWbtjLro5Mr4T60TKY3btfaoaayrgl0Qg
Q5Zn4bT.L0s1rNJFRfw8Z1UThqDWPiSlEhk7ID29kZUnJZrj9hKjTTayyZ53
8reddZ3pi45LCpyGyAQarcQIq7iNiqWswprubZv8YyhXzcBKhcoBWnm+ZT3G
GVDiGMe6ai.5VVDaYQrkEwVVDaYQrkEwVVDaYQrkEwVVDaYQrkEwVVDaYQrk
EwVVDaYQrkEwVVDaYQrkEwVVDaYQrkEwVVDaYQrkEwVVDaYQrkEwVVDaYQrk
EwVVDaYQrkEwVVDaYQrkEwVVDaYQrkEwyJKhA2KuKhgfkTFPjAMwESPhTFI+
HwhX3XemkaeWDaYQrkEwVVDaYQrkEwVVDaYQrkEwVVDaYQrkEwVVDaYQrkEw
VVDaYQrkEwVVDaYQrkEwVVDaYQrkEwVVDaYQrkEwVVDaYQrkEwVVDaYQrkEw
VVDaYQrkEwVVDaYQrkEwVVDaYQrkEwikArFPFiOhswMNTXuVIEKx.Rw11qV2
V3ew7QF3oFJ3CFJJeKCCvK8j69FWuGbX0QY9iLT3NTnnfg3XFXIgQ8fPLQyQ
.9bgDQguFrbyIV7t3U+SVhWbwVE9lmAPSDf0Gm6gCkH4PJUs+hPA7v4Lrq.f
j6ysLjBMy+DwSzI5zvQVkGrd7k8pezwfjsWRf7SBSTR7tNgqF249h5G.BNQx
15WO6kjzSDq9ucwgSU6VKw+1dLGiCOU.CzuT2q9T5+LqkCPq4L+veYiWN65h
ub1kS9.cevcPElvuWdO0y7HZ2H+fTSItfEiSPacICaIkXKoDaIkXKoDaIkXK
oDaIkXKoDaIkXKoDaIkXKoDaIkXKoDaIkXKoDaIkXKoDaIkXKoDaIkXKoDaI
kXKoDaIkXKoDaIkXKoDaIkXKoDaIkXKoDaIkXKoDaIkXKoDaIkXKoDaIkXKo
DaIkXKoj5IrIFj4IwcRwU0QX1JMWqn0Yu7CdfTfEgTI5gHkeuKRuNcT8cazw
vMKWcb61HwrVP72cdRq94jkjlKxK7I+2BOcRACojIXnQxD3VYMNBQucEOREp
fTLZCA.cC.pDmaE.njwVyHP1ROW4AyhTaDDSsZO3C4B8X3MePVl+tfKP.oCl
rb+TwPzO14mfO5T6uPO5nOb+gvLbW3PQCh97Ck++Z.ENv0aKl7.9Q.7L.Fcn
MHmg2dLNNHZ3JAL1PMBJkZQrOmK0T1sSnqLAVmrWdLXmbLrxOKHy4oZKAU4q
PLZjZHYU6g5.7WvniDon3K0OveXQlLgdKjdOCR+dEJj4u+PlhGecWoY5SF6w
dVhY3tOo.OM8VwWfGPl6ssz6DPwXTBnCthCIfhBNz6RyE3m0JFC2OAkNRAWV
XPmK3tnOA+DkAPLhIcxfs7Kj8Vzz8.yvj9XCSjBmxnDKjZ4Q1dw5geFgLJqu
lrKVWHKHRLhc1G3GObUAh2HMCPdWtbIhNG5B68EI27157zpnA7OlmTUvT8Z4
+XOd.vLSzUVmDcberZjPJZJM4qYioDbwZjiCTkpolS2P9svYoFB+tComkHxB
2EKKdrNTTvsWO1jdDWgFBGe5eDtjnejh3Hka3zIRP.gjIWuI3aa7W+8VpuVb
+57QIq8i9noxVkMNWeF70LIH5XKoSas21QNDoAGhj0I3fRS.iGpG.WkLo+Ng
e6V4qLruzfr2iye4JB0CM3jDXETqTtKpmMEy8lAmd4I61E08LYcJd2ZMDLIq
+Qw5JhVSWha4RdYaEZxuKVpy+3lvDYQE67aIw6hdeoe3VmmhRRNXjqrd1Oog
p0W.Ftvhoa3czrNdJm0w55d7SXVWOmmKxyMHcRljG7+6VrP1KljgPuaeRspn
5tBeavA+9.vkg5z2F7NJ3d2YH1dHC9osCvw62dJX9RsdcP8Eg1WrRW4JdUMH
euF3.cdRsUQwAw4YhP6dZ617LARJjyLQp3HGFQ8imDCJ4kjjTTj0NqscMpsR
BtirHdruDKGYdkED4mPfZdy14z.Y5s2z.+UXvM7WVKEEGMpHQJvsdWSDJdhk
TykROoTiqh98aLRQBAHbUCMUAEMbVaspgg+Xm58+as64iLb28sDFuqXgOHCP
IHOWDjivbRwrD3rDVjEIXGyYzQLm8U+WC1ljtuJmE46gCQ9m52DJx2rMdnGa
785ulaz5yUmZmop087KkYP2wgszJXS6wVW+F0Aqeu5fI5J9h0IDxFADdvu1g
FrJIcSPZC.D7XsuUG8Zo9+aWKR+P+fXEKdiwf3jVRHTGSAG2cJgEsJ8xW+uE
NfJdmp3V8hAYwpcMDPNjx3LjKgB73RVyaVS0ghCoIGRRqda0rj9IMO.QW+DA
WerDPO1ESDLHQm.K3GwIB0M0jLv54kyo5PwrykbMsAGG5feCrZbt8BM.i6IC
5noneXLC5HW3TzSTC5IEiEt5tRd9LmXkSWSSronmLQnn7onmHlzSSgJA0Dkb
h2TzSlHRSgtGwyjdZJT8vlX3haNbp7ICuQcM7xtFbccsIdQvtSA9hMomlhNx
.WHSg.gf.CjHD.LE8Ev6F1W7aXe4dC6KjQ80TnCB8LZ9BBlj9xr4KuIouLa9
hOI8Eyn9xcR5KihwwqC2+faRmSli0dfdXi5b24QxMqyQyijCMpy4yijaVmCl
GI2n.5mB6JtmAqFWY.LA80GCovIou3F0W3Iqu9PLjOI924tF0W7Iqu9PLzcR
VijaxZIp2D4Wee4BLR2fMKl1l04bzr3TiQLxwBZJPYlIQyAmjTCgFo7LI8jQ
aVPkky00WjaUpePhANUvtmpXxqqmPlzSnonmvlzS3qsmLJFoIYUM3MSOeT6E
fdWfO6cqurKN6cp+YuO8u7coe2uG8O+cnup.z55cm+W9We4+GYUzZMA
-----------end_max5_patcher-----------