Posting about this here rather than as a github issue as I'm not sure if this is a bug bug, or just a gross misunderstanding of @padding modes by me.
So as outlined in this thread over here I'm getting some inconsistent results when trying to create frequency/gain/decayrate tuplets for a resonators~-esque process. For many samples it works really well, but other times it's a bit out of tune, or completely off. I tested a bunch of diff fft settings and other things and then decided to try out the @padding modes and that made a massive difference.
I seem to get very good/usable results when using @padding 0/1 but the moment I turn on @padding 2 the numbers take a dive.
Here's a simple demo patch that shows what I mean. In this case it's doing one sine wav only, but you can clearly see that it's out of tune when in @padding 2 but ok in the other ones. There's a more comprehensive patch in the other thread which real analysis, but I wanted to show exactly what's happening in an isolated manner.
Is there something wrong with @padding 2 in fluid.bufsinefeature~? Or is there a technical reason why that padding mode (which I use everywhere else) specifically performs poorly in this context?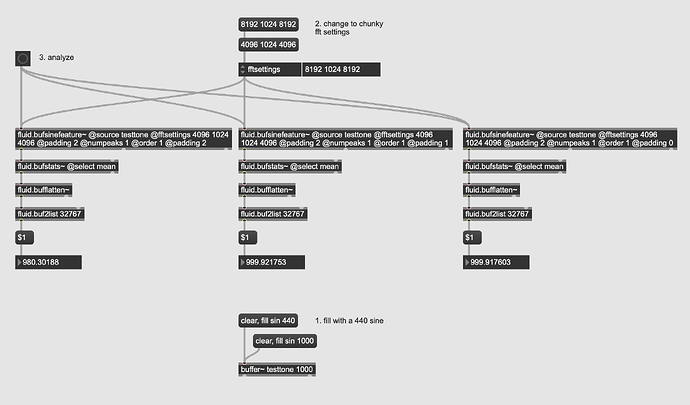 ----------begin_max5_patcher----------
1143.3oc0YEsbapCD8Y6uBML2G8kQRrRf5S4+3N2IirsbBsXvCH2lb6z7seW
DlD2DHESDTW+fADRb3r6pcOR78kKBVW7foJf7Ix+PVr36KWrv0TcCKNc8hf8
5G1joqbcKXSw98lbavpl6YMOXcsGERz45rG+OS6sxOtOMOyXciicpwCZ6l6S
yu61RyFaCtLZRHcEgEScGXp5Cb7Bx+9xSp3ns8QQO0Z5VGvEq+7eKCpa5GKW
V+2pOHS3gjM2qyuyPrE3YGy+xijc6rjJi0hu4UsCHKM2ro3XtaT7V9UZpvGp
1lVjeam8XnlEAD0XOhO6PTzkXVD9zrvBI6RyxHeK0dOQS.fRpP9ELNZIRDmQ
qKyaCigV6MUU56LugVILEGCA4.o9rNYCue1.b4YzP43Dm2KYZsKMMYe7fo4w
DD77.NimQ9jm.UIa3Y8YikmfZB3IeL7bWVAh4kF8Em3Rx.JtiNz2RjcEk60t
dK6jZ7do1JRvZLsQmTT9bj0AcoduwZJu0jqWm4FM0i94+hco91VahfGpN+GD
glFUnvidZ4nBoyMeCG7aX5trioaCWeb2tLs0ZxeZjACQwIgfJlKDLZjhmHU.
FhS+Eg3uabP2jGlBxyyRqrjHdrLdrNdlHLFRj7XzBnjPDSUO0PM1430uPca.
DSgAnBK1V8D4lJSFxLxdiNejFhHfExAQRBWJDIpHZLZGjQ9OPPNI1ArX7Ni1
drzTaMJNVtAUvXpr1hbC4FTASq.FxOWKfbyA81s3MHbxMH2NXzeohvH2TTt0
TVeR68ouqzmKbZGGmhgIYvIcbZbhHF.Qs9FmVvHQul6n20b2qIOd9pwbpV4r
WiQHtdqwzZSlgZLB40TMlSDetpwHhuxpwz53mqZLhjqzZLsAByTMFg5OzZLL
uTi4j0ddqwPGiIe8wZi2EKcENaKS3P6+W5zn9qk.yUsjMYFc4plsV.CuvPFJ
8hma0rrTIqYQpTlWWdpfGLg7E.5HSkHRb9cE3W1x7Xhi5BmlxmdIEQud2e8b
Yoz4VYb9XSVhx4PUWumDJPMiaEA7aQkHDeEuSDvbIRDRtp1HBXN0HxXQWaaD
ALqZDYL905FQ.yoFQLY7enhD49YiHf90HB7IQinZT4cvrJkGSGYcSVRRSjiG
zIT+hz3rewIFzAKGZIF2C14De02fzQm51+YqRSvzoWqlOQxJxK7YKFjkl691
am0GUSe5ztOTb3yDNpAfSc90y5jaxQ+0t8JxztQl8gPtdsF+lH8vfdRX8qHT
OPK8PL0qd+6FIgOhdkCxbJ7ARxgfD3CjFRJFI2GHIFBRQd.IQxPhH7QrmXH9
IgOhHDCIAlH1GHMjYtsl3oO8jJo6zS7IubvDg7PBNqkt5A66PJqC9HynfMWH
Uu3lA.kOBOgg3ofXuPpgjE9Yp+wvhRGDVuMQbiZV8gCe0TVcp6NXP07etvM0
HYk6xz7lKEtKKMeMss+t0vDnKQw7VTIOtFJmp5GjMaHav9BbRVNtXfFAHHAQ
HcqTHGUZWcP2vE2BJV9ik+OvQ3RTb
-----------end_max5_patcher-----------

(unrelatedly, I'm getting an instacrash with this test patch, which I did make a git issue about)