Took me a bit to figure out what was happening here, but it appears that if you compute a fit, and then write/read it into a separate fluid.standardize~ object, you can't use the transformpoint message.
After reading that you need to specify two buffer~s in this bug report, I changed my messaging and kept getting this error:
fluid.standardize~: Wrong Point Size
I thought it might have been a buffer~ size thing, but that wasn't it. No matter what I did I was getting that error.
Until I manually did a fittransform with that specific fluid.standardize~ object, and then it worked just fine…
So it seems that writing and then reading a fit doesn't internally resize something. If i check the contents with a cols message, it tells me the correct size, so that's correct at least.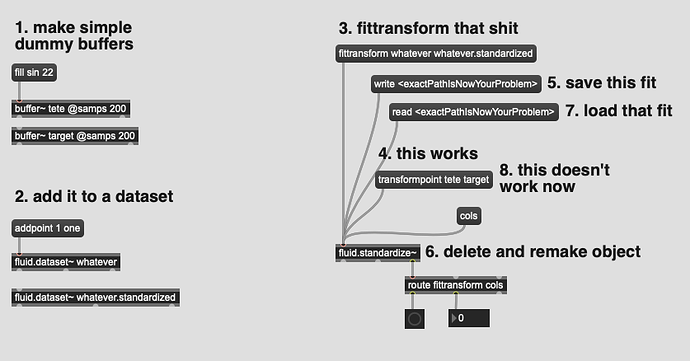 ----------begin_max5_patcher----------
2839.3oc4assaaibF9Z6mBBcSuwQXNOCKJJZR21rEaRZvlTDrHnvfVbrMioH
EHG4Ccw5m8cNPQQJQIRJOxNKpChzHJNb9O78ebF8qmdxjKxuWVNI3OG70fSN
4WO8jSrWxbgSp97ISlGc+rznR6sMYV974xL0jybemRduxdcwz.00IkAw4xxr
+jJ3t7haBxxua0MlljImkuLyd2npKtnPVpeXQpj7ryacG3p6Ha47jrToxt3v
pKdYdlpL4+IsOJvTvpmVjZ10IYWcdgblxwSLBW+0AHd3TJow+XvyBftuivlB
B9uqWt7kpUqGnw5kEM2tdS9QY5sRUxrnUbVRr854W7sWAgSZLkKilYmBzboe
6zSMub1.EyykkkQWI2RLWHihC9Kx6ilo9Xj55+U4Gxu6WxWV7wh7KRky+qS5
Rtg1s.hBYSoZADDXkS.l8MzNEIqTAtKodXgz8blLodBMjGgSN.VeWHL9zfzb
M2qtNREbYhZhefHbjCh.Dl2fX6aHeBJ.GaPwcEIJoOQEjPhAU.4N3.f6UTgv
mnB5zfxnakNmOMPE610BxS3F.0BX3D6aDnuwMTeAa1kniMMHVpIOYPTVbPgb
dzMx.8JaXwmKGzTpEag4h1NnADiWafukoHeISyj2oedaIRuX4kWJKdLPEUbk
TE72JilunTKB.60YUWxkPKqisuAojdL.Q6x.7RsKSs1TSYQYW0o0HzmVijpr
.LQ+K8jCZJnBF.bNn8NnferMzvSMdlTEQYkWlWL2EAq7ZuEBiPQVQiKDFBw7
sDhcrkPnoAQwwAIp.UdPTPbjJpT5KwiyVBCQtfYd2QM4XKcfSCr9lKSluHUF
Dub97GBbtZJOv7qQ9TzBcIHTEJzmITiO1oNUaTtHOISi9LQCcNuGclzUtoBg
cUpA1qYPQNHm16RFLKOsbzbanvjgHFS2laq7P6MlEbHL6EKUp7rQG1EybPXG
KPV85XYjcFsEKpSsJpPaAnjEmKyhzYoasONjLQVN+BYwnYTgU+UwnTvglewd
Ss.y7Ny1cZWEZ5R1NF6NA03909HWlFn9x5BuOoh8+cJUH9z3UG1z45BFjmIG
uYrMznV+KfBAgynLjFVHDd0BFi8IG2RMemNUJ4sxh5ASKU5pYhJh0wuhGccu
UIR4R6FQH9ULbPds2Aj+xzkIwSqRT5wQv98VzAAScIJcvveqCgyZT7QmhCT3
wWbbXR.bXEL.cjk.XuKAZn9ebrLeE5GK.cjAC.ejkEH+5iHMUmtbllfOLWhP
lUVPod0C.xmd.p60fIm0mbmFbc9ERNlcZf2j6s2gsrkM1+AKMZtdaQRY9xhY
qVLWykOKXMUFKKUIY1JcZbOF0u4l5TpOzER7bsPZ3Q+qjVJ9zWIL74hmzw9G
vJg8gzyPtndVIcxWdfmLODXeqDyWqTeROrvCqjtJqmIDA4.wdNGFQKVniqWV
c21EQ6s7a4ElOJNy9wjL2Gsd8lTHuMY08SsWIpP6DTo8.trv0Bh6Ytd3LYdd
rrHaYRUaFzrmdIKUOjtoSp5tW75kwI4eREoVVd96kYKcte0b0kQKSUsEEWbk
ItjtxDG4cR82n8pW4Hch6aOq5x026WC.SQgDHTnEKSwPLGwrizCnzFnwp4.W
MIc.7P.xbqDFhSn1QBDlhMi.aLMz50B.Ccq.HTX5FuYj9RlbAZNMsydW4btt
0Wc0EE4KxKVoS0SMr99WpxupHJNQ5ZDksJPmJ1ItcUKp+VqX2JSpjoy0BzjU
yoIxqVY7tkq5hT2JfnYyzO3VBULRKfrbGgp4T6Ht6ZM3yIxT47MmJWvXbq.U
.zUO4FoeJHT641raWZ38+dgLK3S5BXB9jbdxE4owqiVVpWmYFwV6ERGc1QZP
FG4TbB..RZuNlLCry67jLiMhrVYpSnEZUlnZz.hKH31Jy1nMBmBwVdBEhEgt
QTnlRZOog.pqU36.WOPrVajsnFOK3.pP3FsEWsIxlsRMyL+wcibOoiBvtVL0
hmCADH2h6zhVBm6vNnPGdhxV446IZP79HkZeFDM6z6WCffMPsq535WM9W7BA
8wWqN2NMvHHqlYi1gI7vznaZF95hjnz0VdyRk5vBqer1cIPqmz5Fp6gqQYb7
.s3ryc0K6zDKjZbo6T3DNvZBXr.v+A2DavS6Xai4XvtFYICufn+xm+mi.JK1
OTlB3LqxAvnXnEJCgHHZ.QiHLHD3BuGhXDqxlFB0x88ZF7iODWjekL6yVfTm
vTnIaCmeIC1zF9fuJuiFO45D.aC8LIqXiYoYDJyEq0fJrOmvWdP9vx.3EOAo
tw3PFV65vJc4DVXX0HPnOg31VQjLa3v7v8ixIU935ZzdfpuUlIuMZhu79NTp
naX8NWiCLI+09bwgbmGSbXUzAyknX+.GawDh5DC2dzAAh2KVsONymX02zX6+
5FwtcrdQsLDTMx6j0OXx436Mh5sQIYONPpRqjqiAr8H+SZk2kns9FUMcvJKx
0ubTnIz2UD0OUllDuZ+N5ll5LogA5Cr65RG5r6QNzs2hscv5S406Vs6XCWVw
FPTE3Qlr00yUjb+LUwH8hb7HHyl5+3wB1sAj3Y00yGxikkGVJOOEVdbwm8JC
2uKjmQCzOz3XszMwzkOosCZdDHsOlLScjb25Uxzb3+Te2kswmlkuPN7zMV20
5Pr4uNy39kSH+4nKFKHXfIcO4EjozEVcQuIP2QgcfgFh7HlIzmyuxTqxHUJX
ttLZnKfBACs0OQZsCIufYA+el2yFK8LJd+RzsRyIu5ww5Zd+XXvT5KofNNp3
lWkkb00pWYK2eeLWcaGFY6N6xfYnc.t6dPPp8evq2Vm5M3QXeLdn8ZvdrQ7d
WI7dq074VL9MqpPV..U+VO8wiBMl7Lo6bGMtHUp8Y61aw2jmeyt2ci810SPu
.u063xVC7WivFFE9+EPtjraFkGIllxAh5fwXFP6NpWmQCXVcVWb+Saa3258T
vd63li5uwCCYIG48uKf9Ysd0CM5c3zzyn+2i6lTza.RuXlbiqlruXNZOuzIK
kZRkn+Tn6zbpNBNs1a2JM+95MBHjTcHMBCwBd0HtvqEHLO5dl4vpNtxBDsK1
gWgEeZ6jdK9eCEoMaRuwv1iQ6vKXEgonv1QqLvenu0CsN6y8DXXDR0mbZhh5
Sgw1i1iuJtvbpzNqyQOiAteJmSs1VGCSK5NG0iqoaMNSeduE.tCa9aRWJeEb
rGkNHuZunW6CKromKeRfE42kMZJrWeqdjB+6ODMdBDfBotitAmiwHmsCBpyV
x+D3aKjxCfBsRu5VwAYlf69m3du1yVlJZzjmf.XLWSBY.MwYEkrPXH0+z3OK
iGM8wqybCVWUCnJhguoueQllle29IwsOoczP.PruxDDHp6jIwEPgMcT8bnD5
QiAP+QjAraewaySO.HRcmfn5LlntC2i2O1ZKVVrH8vRdfWeZ5HPp1925jx3F
f1SFpDfKwHDEvBsFAHAkgD9juJjyjI2t+ctqKLQcgIq4IPyCQpeHNWIJFXwf
i3yHZGZgUAB3UmTXMZMDuWo8yCJpTlEW98VDj0BY+a604w3Evg.taKpHLPX0
Y4lC8J1QEsnO+fM5E36hT4AuyTE5Dus9kJ4kKSSU8tAKskNDnNuPaVg04paZ
8wlmK0MOXiBJE5ZoMCywte8BLsIIyuBUGSoNnMMZnkp6C4ARvEtDav0lNXTH
NzqdOUxxuu98BbmoaNOLbRBy184G8GRJTOD7OtJuueuM.iFxV.JtRwn8LTsS
MCpoEC7WjP28bDFFBbItpQ6jpcimA.XX0Ald7BV2OcN6N3YjGkKpzS1e3wm9
am96.7nWCm.
-----------end_max5_patcher-----------