Dear all
Here is a small code bit that is actually not doing much more than the helpfiles, but shows a simple way to integrate RT and Buf* based workflow in the studio.
Context: I was in the middle of a composition workflow, wanting a less noise, more harmonic and elongated/slow/fluid/nonchalant version of this sound:
So I thought of separating the pitch material of the noisy one and compress/filter/delay the former, whilst taming the latter. I tend to like to do stuff by ear, so AudioSculpt was not an option. Neither was iZotope since it does not support quad-channel (my Wet Ink setup is in line with all the mixed music stuff I presented to you at the first plenary, so multi-channel behind the players)
So I did a quick and dirty separation with HPSS. I experimented by ear with the parameters, and because the interface is share between RT and buf* object, I just connected the dirty interface to both versions, then 'bounced' the results in quad format from the buffer. I then used both components in Reaper to process each part separately.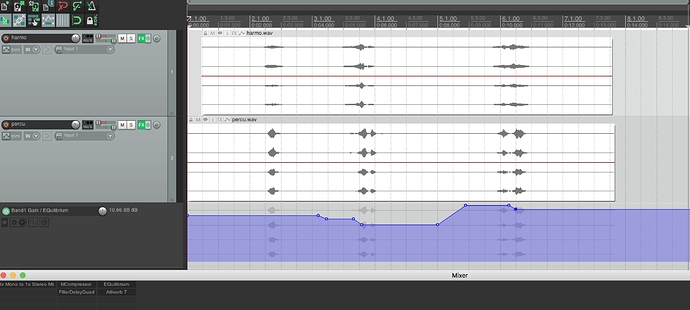 I hope you will enjoy the idea, albeit a very simple one. It took me 5 minutes to code and then I was able to make music with it, (writing this post was much longer

and allowed me to do something I wanted, by ear, on the spot. Dirty tricks. Fun.
p
ps The patch is not documented, really just as a cheap illustration of the discourse above:

----------begin_max5_patcher----------
3474.3oc6cszjihiD9b0+JHbzm1vsKzSf8zL6o8WvdYhMp.ikcotvfW.WU0y
Da+ae0CfRXC1xFgc2yrc2gsawiLyuLUloDRI+wmdX1x72Yky796d+l2CO7Ge
5gGTMIa3g5++Cy1F+dRZbo5zlkjucKKqZ1b8wpXuWoZeY99rD1JucErRVEz6
Md0ydq4oUrhlyMa+178UorJ0cxut0xpukxT2hlyaWbUxy7rMOUvRpz7FDAV3
O2C.vpuH9xufhO8920WDek5dju7qegDXPQdVCAAx19ue5SxOlaoztkUVFugc
jzVFucW021w73YUP7bu2J3Ur2hek0urBtLYkHkNZDUKqPkrBMjU8cVRe8ULa
Vuv.tWX.dEvvx8UU4YNP1.XkzP8UhHD274vh1x3rM8KdPmokyXuItiGaRue8
ZVw281wJR12uvCuHgmDtfL2K.pTrgfyqWWmlGK5pcJTv+VgBOGWrM2AnP.vD
DHt.DvQSMHrNcOe0BAT77txxu68Kk46KRXd0e8KJrIimnAIueQYwTVxek4Li
GMrQQJXCEhOOtofq4C3b.GbqrazXjyP.h16XXfSLbHSdjhB1tzXgMxi+q7z8
hS5wswRAq7wcE4eUPuGeiUwydoTb9rpGqXkUeoTbq34YeA5CB+B.9XR9J1i+
59U77GiSRxKVUtPDpwAdiqQT+PIVV+0UDnA6t.MCghx9UUOKRs3YOQPeQLwv
.uuPVDgfPejrIbDLB6ErfBC.fvlqOkmwRDIlntInwCXgAQRDCPTVe.nJXFN5
xQLn6BMqXyORx5UN6sW4k7k7Td02Lkv70qEYloYKU9SloOklm7Ba0ph3MkIE
4oolYnkjxSdQf94627rY6rr3kormO9BzG30iOvxMaE1xcZQXNKXdiV5W8zmx
PjKAJPpN7gKHP+P.R3YDpTMXfc5D11krUlzwPIgFHphIGoY8GZ0MOLSjxK6U
VgrCrwY+vr3c6LZ9AiKQpP+Zt5FELusIdltITaSELodUe8j1ViKD3Rk.T1Wn
Meem1zcTdaDvcQ1ddqWMko0mZtgsobFoQMsAMEqLOvgFFHRcm1FwPWIf1crL
dlJm+rp3pCE5Ur0w6SqdZcdVUI+2ULHPRidN9ZgWxN2ayClEuUKc+ZAONsQ9
lsofuJOSxDcHqr4FxIS6RmGsovnNir3c8bwBUu.WF3fkBgbe4x3BUWLsCCXy
AqxyS6dn1qKkstp9v63YYGfhU46F9fE7MOehqcYt3faO08Vcjxm1moO5SBWG
UOUJGqRmyKNMsNRd2a+6wY7swhfSbsJ.52dvib..5djW64HqDVwIr23qpz9R
LMFDmNeWiQzrVs7J9FQXwtsUIbT0skibfKZZei2wmpXaEwgqN3D5L5Wytjld
c6z9AdeEoXHbNz1eanDbFfAUNWiyDbnHAkNFLJQTXpmsIsiZZngL5SWfATJg
JLzQ5nR3CGh7.9BOL+HsWLyNrenizGpPXNHO.0joFvEvg9T8O.qNxuZsHVH5
vWIzaZCoCgfkaRxS09GkwxPyM9.bfDaxYlPldvXp34nndwJA6shkHL9SUov8
QH5GZBSW6O8maiG4XxUgQ+g1vA3DCmALF.AzViAB3uxFCgvET4ev+faO.ilR
6gHz+22ftigR5+w1R.ModFTdCzNFv2EKgtS3d2gEu5ebXychKFAm24Svwr9w
SH+ILo5KyCkpzCDpfHndV5COfNmP0aqRNvNk7.w5ihZ6Oaxh+kQKAvA2DsDc
LZI.BeO0R+ye+dqkBH2DkDYTckfQ+0VIoCEN4JI7XTRzf1fVSjNRihybbrjn
.UFW9J1G427YGr0DjraLAM1SGxA7rUr2MlXLm.LcdXHcscEJqcrrUdeLW1Ci
efQfevZ+H5b2LmO+yLanGhusyi9.OgjoGx1msKN4Eu05+NLbgupfhJ7QOym0
owbdvp8YJMzOFDLg2avTAk9KZ+2DY8gTOFIDzerVeC26Fea.L166J797Zf2i
hOgd+MOnigLbT3B.sdZ6hzliisS6vIJCuMn1pxcxYIm8cG2ckH5h1BVT0Xwn
H6.KdV2dp0+e4WCAi2cWeUBOdKGy3+Om8lNQFD3B86c7.6MPsn6MpM4cYq8x
4pdqz+r1aE4qeR4SdGUxeF6n1XkME8Qw+oNotZjSmUm0Igb0Y0gt+VeodoN1
5SmXLUic0Y0AsYReGDltM49ptqN1ee8DfGdhQjdAozNHL3euFu5t3LVpiGGe
CloWamTs2qnS7XYO0Dg.G0DgnVXapIU.1OazrdjLuYsObDXP2IuYSQ7JP6Cc
NbdmOObtljmLr4jgQ9fHp5T8iB8w5eIZBz2CrNeWdQCtHNundz2erTVjqwsA
VCCJci738aHTuxL0Fs0ou4A5vKqXkU7rVkzu0lbrmsymz0vC9VvCASHODZIN
DnOuIgGBrDGjCS1CNQLA8RXhoRaPrTaPmPsA1RffNg3.1RbfLg7.RarcVdHZ
h4AazE3IlG.11w.LgLAxVl.MQLAzRj.MgZCnstofSHS.BsjKfSoyRkHZSOTz
jyE1XZJWOfSKWXisILZp4BqrKlxtHMQnOeejoL4NaYhg6mV2ntk60tXDGolO
KLYQDIDACG4NYDE5rcgzWK2ymcgasB4NVnc80q2naxc41hM64K9Z4ofg.jdC
XDD9APPT6oHfbDyX.M.doaZUxY1zE8rJttl8r19sKGZiIeQaJMb85CTusSH9
VrEpN0FRCQuIhudSZ2u3iun8pLtdSJqWeQ95MNh+oj+FZ2N6tcanWTAcZTQc
CdZUbUrw3fa2cM05ZyA4O6iyUXr1h7eXWzvbRcZ8I.C66DfHiyn2aAx7Lv8d
O7wgMN6Z8x1C6CuX1GbN1GD3Z1W+K2rER2E+hGW+W2su5Q5M4DAek61QT+6c
OrC2siqWWILnEwE2T58Yf2Wj+atZcinKnBx0Vj2mgyUatXylD5pswkuHtP47
Z48YrCgM89UGE4es3luy1yiNy6MhVumWCch2aX3OWAufQ0cBntQ7o+jI9n5p
OfuaDe7MQ7GxoAVjwrzeuXDOhunhAAJ9JPLJLfCbBDEo6gTGmGEbkNAfvIeq
hmjxhKbnHqyo45kXvjKw9ZMOPq4gZMOxwZdsOhqWyChbm6+9yVXabUA+8u6E
5MPXOxkH2Te0X7H5HDHwX8BQHDFeNgujuIStCkO2uR4k8mrKn+JyQnqKlI5J
YRHHB5fwAD4q1wT0iFJxhJIwoQm9QFzsoLu3TjI7lfLveBQl.cQfZhQFvOgH
SsumIFYbWkipJei7IlO9fMD8hNgpmMEalTsglxfaTl38aRrJN46hfwPQHXrC
J9cD8JofRTgfCNNBbOKnvwO3zcoweaYrKxylVOJqHhwhxBPOWh1CoZIScO5x
0RY+6NJMByIcfBFaW4O90fiCYfDNa353WYqdRWjSdJtRjxzx8U5EPhYYrYYb
IOoZeFWRDgADtsLcrNOMM+sMo4KiSkUUi7N0KD0V4MqJIuPhAMqgkli1rZaz
291xvQdAeCWHVorrM5xBhb2.5GErHDDPCCDRaEO4kxOVXUsWRKG.fFkRjcbg
hX.d3+rOtoxHc.aHqvIkUELw0VutcFySaXnr0k0TleHqFXMEkQZcUshbskCr
Ie.OkL1KdQfPWL9FRypqU4VkRuRg1citQ1m7iGhyJdozYTSGGGTCy.9XjdUE
qKrnXz0NhtSOeGR43vYyb1nwCWH35zp.jqclLAD6D7tSX6OFxNkNRYmZmr2c
lo+wP10dz.QWqAOxRCdiofelKmXq7s63tIMaXcAdq8w1d0EYXLZ581Og0Z45
pp5nK0xmGETWV2EqqFTNbMTTCMGu7+5rNRFZMu0YYiNqcE.z+..rkzQVPYik
SzUSmPKnC0AzgPrfPnHWPIrETh36BJgrw7vIxzkXHNNJcir6v1nkvDWPIazR
DmPIazR.T+tK7uAjF1OoA2.RC5mzva.o86mznwQ5aT+DTzcylxNROI1T1Q5I
wlxNROI1TnvakmJD0lnwvOVC6WOkvWf863njM94OPvcUOEaHMLbR5oXEooSR
OEqHMdR5oXiiejKxwC4e2FBfUjdhb86e+b86e+b86e2b8CCs0gLbjFzPqc8C
FKkv1Row1IEZUdftX3QPvshRfnaFkBtQyA.HvbyAc9sT53HDzBBAcAgPVPnw
lFEfd2hEXGomjXA1Q5IIVfcjdRhE.H2OcM49oqI2OcM49oqw2OcM99oqw2Oc
M99oqQ1FQezQKPVDnUQofwRIqy7B5BJYkLQGKkrNGOfKnjUxDYrTx+lkMous
xDdrTxhbubxLKArHaR.zQDBXoawQSHacBdzCT8fWqZRZbvqSsCdUpc7qQsge
Epc3qOM0qNM8CV9fGha69mda76T4i4VIMMuBy5B.wIIrrt0sbUQjJDEAApZD
UPcMhx7kXWmW4Q5h5c6G9KHsmWaMQ+IdlDYXceg+U+AXQKXNuVYUHXpCel4y
1J3ddS3cSkaGA1nvq0uH2QXwPDAFop.VAPBV8KX.l.bMa0YAEzOisbyZdZZK
6YtBHadl+pB4E2nfzqkl15.Vn70kSv7d+kYo8ReYsUDrfvPANLu2ec7kco0Q
r9qgY8TZwZO+8U4sBZS5bsuq.ckUU2dG1oEMK07VXco3ErvrxW8V..KPIgTd
sVVhq4+9o+GP7Qdym
-----------end_max5_patcher-----------