(not really code sharing, but more a "New Idea", but which relates to TB2, so I guess this is the place it's supposed to go?)
So when PA was sharing his APT reconstructor, at one point he takes all the bits from all the buffers and spills them all out into a single buffer.
The code for this, although not complex, is faffy, error prone (potentially), will have to happen super often, and doesn't really matter in terms of how it happens: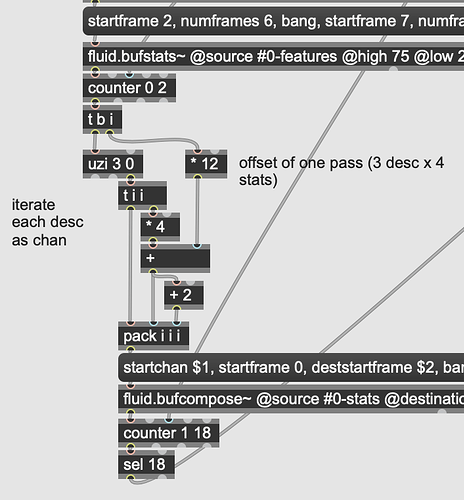 This having to manage uzis, counters, and arithmetic stuff is going to be a PITA because one number off here or there, and you're throwing away potentially several dimensions of your dataspace, and same goes for resetting your counters. It's a massive potential point of failure/corruption for absolutely no benefit. There is nothing to be gained from "rolling your own" data iterator in this context.
In speaking with PA, it was clear that the order or orientation of the data in "The Long Flat" doesn't matter (as long as it's consistent), so it strikes me that this is something that can just be standardized, ala Max's right-to-left/top-to-bottom thing.
So you take fluid.bufcompose~ and feed it (say with a "flatten" message) a string of arbitrary buffers (of arbitrary length and channels), and as long as fluid.bufcompose~ was consistent in terms of how it handled multi-dimensional (channel) data, it doesn't matter how the data is packed in, and this can save tons of work and errors/problems.