Putting this on here (rather than directly onto github) as I'm not entirely sure if I"m overlooking something silly.
So I'm building a cascading onset detection thing using fluid.bufonsetslice~ followed by fluid.bufampslice~ and when testing things in context, I'm noticing that fluid.bufampslice~ is rarely returning valid values when I use the @numframes attribute.
In this example if I analyze the whole buffer (jongly.aif) I get a bunch of onsets detected (notably not including the first onset), but the moment I add @numframes 1024 I don't get any onsets at all anymore. Only when I change @numframes to a huge number (8192) do I start getting onsets again.
It seems like this is broken to me?
The only thing I can think of is there's some window being applied when using @numframes, but even with that, I would think that adding a @startframe offset would compensate for that, but still nothing.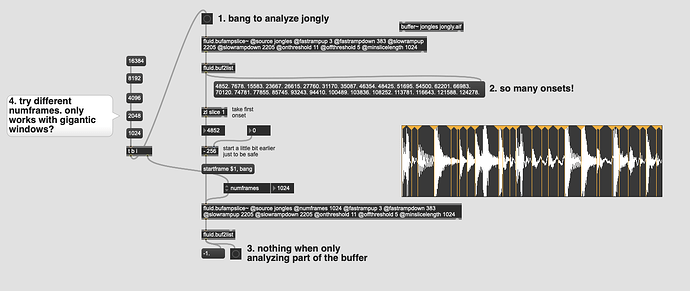 ----------begin_max5_patcher----------
1584.3oc0Y0raaiCD9rySAWgdzUf+JRsW1dbeGVTTHaSYqTYICI53jTz9ruC
IkxOM1wzQRF6lCgfzTb32Lbl4aH+wMyhVTeutMB8mn+AMa1OtY1L2P1Al00e
Vz1r6WVl05lVT09sKzMQy8+DzqnpTab+FoavhUtYVu31OyT8ybWVS1VsQ27M
cU1hRscJ3mWk58l9kg1MpeHyC6z98WTzbTzhrp0Qnu9zhZVtonZ82ZzKM9YI
37X7bDUxrMBrqCMFi9p8S94M2X+27.A6x5sa0UldLXz26jRDOFYZd.spHOW2
.S.AHH2hu1XTcU4CnC0MeuEcnvrAstXcVkoXIzqZU8g1+pe0JKpzKq2W4VRd
OhZzsvBlYJpq91qlAqaF40Ul7rk5WpwWreQmJkDpgII5EqWawitulZUWGylf
ewjq.b5Vm+VWdmFPVVzoMGLpy.fkwBngSr8RwVywq15sEqbqIaDMRrXTUswt
ePG1nq7FlrprxGdzNFbfzfpyQlMZzh8VC4QMLzAYXNqYPbcLCBVp0.HncNGt
FdxH6VPiQs0nsYUO.J6VXO+GQCQ2vuN5FBVHhkDIOUjxUXYBkqliHJVLmkR3
ILEmR3JlzNXpS+8QUbP.h1r052n3HDElGezfpzinXXQGUCPNYfy2KfImKcQJ
YhQHf4IAnUKFcVWIZnZ.xXpAnJmFf.NGfOBmNIZ.EIkFrAFOEvKgXgm2LO5v
iiSSBEdzzI.dTLaBgGEyUACO0T.O9XX8pzGfc3aPmAs.UDJkNpL5xns4nrAT
2Jr93mGoLhOdjyYb7CDgo7fMjISggTplvyoGxtSmW2rEcac0ZfV0bTaYwRcK
5Sz9g5+lMEqVoqNYB4ioO3io9PIowoLdZJjTMg.LSRS.EBywLgjJGj54118A
edlkd4knLlHtqPE648DAFqHXHUoTf4fZP.JfDYZJlB8YBkP7z5mWTpehlSd4
9hUw8F+eEeaazHRqiDir9vHScG8Ys+rzCCgcGkdcX2wA+MaTElu.Dwf3ucJM
jI66ZTdQSqwS78cqj3bZFxIxefeG58Xk2ewEaQH6P73BxVishoLTYgA1SnEE
FjNqorP2ftcOfb33wBMpMKWOL3mbwvm6okyHtbjDJcP3ewdiotJzvGD9HF93
72tg2P2QVuqZN93xFvGLAJIlVVzZBMYI4R4r5V7.JLAJK6sEhImFR5ti3tKx
A8Ixbjm4RX3WMA0jwDNyLgvlBVeeFQEAyY+RoBcNxd8HzS1ikLL.dQ2Io3Ze
kjcXcbtRxSXLerzyzCQBlcazkC0ffomBmXRpTweQc+pmKaGOj3rh7fiWegvN
urNyDjYVk3iM6BMQXCiA6kkDhxUWyrP8NucbplzjPYa24NX+KzWZq22rT+js
+K4YsF.r61uCwdt2p5CUHlBFosr9P2uSoXwyC3lheHfN4lFc6l5xUPbVned9
yC.+Nn2chGHau1rA8xxG+Pranb9D42ontauRg8YNF662QAmqQxDfMMTVhPwh
AG8jDIzj.0x.MRYBN1xASZa.hJvuA4rg5ZfMEmBSQPRRsMbnLmXTBX.fJKRR
RsKlDS.t+HIPWGFTJgRchQJgDHriRYTNLkTNm.SgfwV9dHacRPdCnUQs6MHK
o6aIjjD6zIThPY2sTtsl6vsZGKVIabSu6yDPfsU5uyrQzUuh3+Bj5nL9Dwpi
vwiNqtADJ4o2uy4g++zPKO+XRibnEN6XGTE7AcPMyXZtfao4imeyJndZhdib
zGyqM0CXHFlSYHR69ycSMGmUma8blye6Q1cquc7Wqg7mK61M8OfN54WKckt0
TT4d4jWLIfbNhbBiPvBJ.43NggvCTRpqljdZUdWYYqbc3hhGDrrY+GAYwCRE
95YU2rR67CHWCg+5I816Z9ocCdP6lda26tYruWp0+XbUD12f775A4HXuY3qk
jruL2URRpqljjAcdUMVhhbtSiigfRtZZuP71Yomxae5ctImHJ2vhqDh9cLNw
HBL69fMiAHmwIiaPYGljDSgIZGgJx6edwyZKa2t6zMsceuSt.C1aqcSWM20s
nx2U351nuqne99QxZ.VjFfB49F+SVcehmjez1ZPvU.AXOvADChzwN197Vs65
dNMGI5a94M+aWnL7.
-----------end_max5_patcher-----------