I know at least @tremblap (and perhaps @spluta and @leafcutterjohn? ) is using some FluCoMa stuff with modular synth stuff, so I figured it'd be good have a thread that was specific around that topic with code/examples/etc…
The first bit of code I want to share is an Analysis.amxd I made (which is now part of confetti, which I've linked to already on the forum):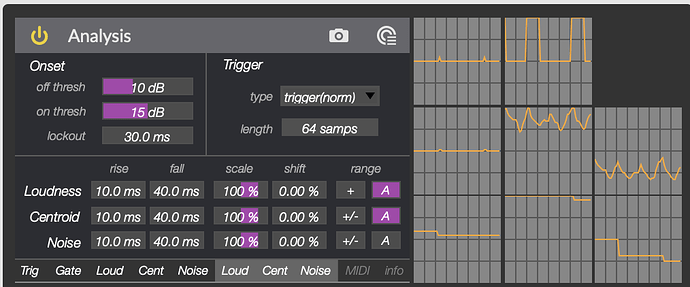 (the scope~s aren't part of the device they are there to show what's going on)
I mainly made them to work in Max-land, so along the bottom is a bunch of diff outputs, all signal rate, with the light grey ones being s&h values (driven by the onset detection).
I'll probably tweak the underlying code a little bit, but the core idea has been suuuper useful for my experiments.
This is my testing patch: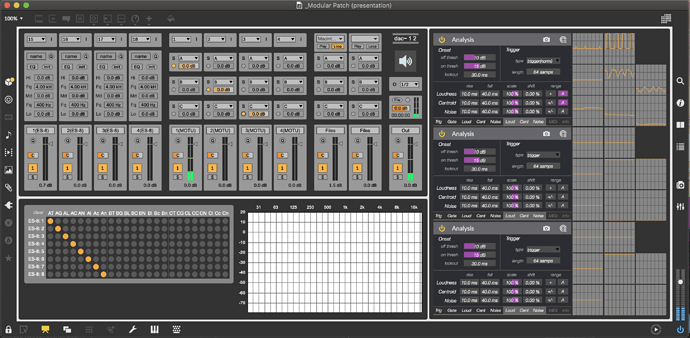 It uses the super useful AudioMix package for all the boring plumbing/mixer-y shit, but with this I have three analysis buses, which I can send out to my ES-8.
I'm also curious about the automatic scaling thing that @tremblap built/showed me a while back, since that would come in handy for certain things I'm building at the moment. (do you have a tidy/shareable version of that @tremblap?)
I also want to revisit the CV->NMF stuff I was playing with around the first plenary:

I've not played with it in a while, but I remember it working really well for 'offline' stuff, but I never managed to get a real-time version working due to buffer sizes, and downsampling funny-business.
Either way, curious what else others have been up to with this kind of thing.