One of the things I was trying to do very early on was to somewhat emulation the behavior of the Sensory Percussion software where you can train a handful of sounds, then play back arbitrary material and it would return the nearest value.
I tried doing this, with tons of help from @tremblap and co., by (somewhat mis)using NMF to classify and match material (link). It was a long and winding road that I eventually abandoned because the response time wasn't great, and before the time of @blockingmode there was extra slop on top of everything.
But now with getting some refined onset detection, and finally getting the onset descriptors stuff working reasonably well (though not perfect) I wanted to revisit this idea with TB2.
In looking through the examples it looks like the JIT-MFCC-Classifier.maxpat will do exactly what I want, so I was eager to test it and see what kind of performance I can get with sounds that were not as different as kick/snare/hat (i.e. different types of hits on a single drum). Unfortunately I can't make heads-or-tails of the example. I'm somewhat versed in reading "PA patches", but in playing with this for a while, I can't seem to get it to work. It doesn't help that the numbered things (4/5/6/7) are all in a row, and don't seem to correspond with whatever the text is supposed to be communicating.
    • assign a component to train at #4
    • play a few instance of the class to define (at #1)
    • copy the trained dictionary by pressing #5
• once finished training, put #3 in play mode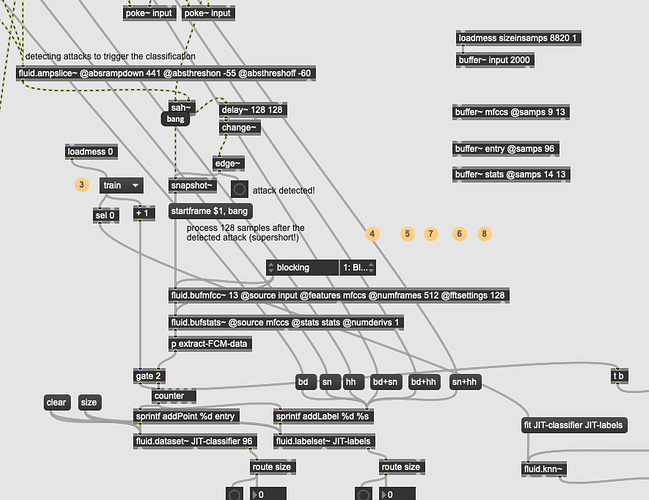 /////////////////////////////////////////////////////////////////////////////////////////////////////////////////
Sooo a few questions.
Firstly, does this example do what it says on the tin?
Is there a more recent and/or cleaned up version of this example available?
In terms of available algorithms is knn "fast"?
Are there ballparks for the amount of entries that would suitable for any given point? (ala NMF's diminishing returns after a certain amount of iterations)