After getting a bit tired of scrapping bits and pieces from various helpfiles and examples I decided to make something a bit more generalizable.
Enter fluid.datasetplot~: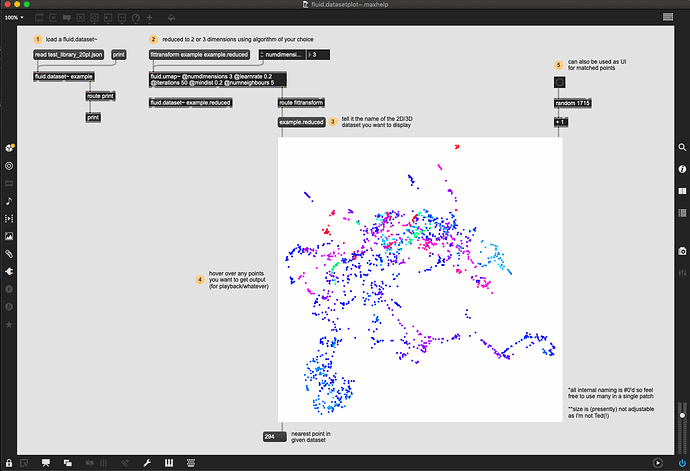 This takes a fluid.dataset~ name as its input, and handles the rest internally (using #0'd names/variables for easy reuse). The presumption is that you'll create a 2D (or 3D) fluid.dataset~ that you will feed into it (via fluid.pca~ or fluid.umap~ etc…), but you can also use fluid.datasetquery~ to display single dimensions from a larger fluid.dataset~ (ala @tedmoore's slick SC display thing). Unfortunately since the native fluid.dataset~ data model doesn't include column labels/symbols, it would take a parallel process/data storage/management solution to pull that off that drop-down-descriptor thing.
I also added some extra features so you can hover with a mouse and it will tell you the nearest match (as well as giving you a little "puck" UI) which you can use to play back samples as well as adding an extra input so you can use it as a playback UI display too.
The code is tidy and commented, so it should be pleasant enough to look at.
I didn't intend for it to be massively comprehensive, more an adequately functional and generalizable solution for visualizing stuff in Max. That being said, let me know if there are things you'd want it to be able to do that it presently doesn't.
edit:
whoops, forgot to attach it.
fluid.datasetplot~.zip (364.8 KB)